Just in time for your holidays, we have baked a new version of MonoMac. As usual, installation is very easy, just follow these steps.
As for some stats: 224 developers downloaded the MonoMac 0.4 add-in for MonoDevelop in the previous release, not bad at all!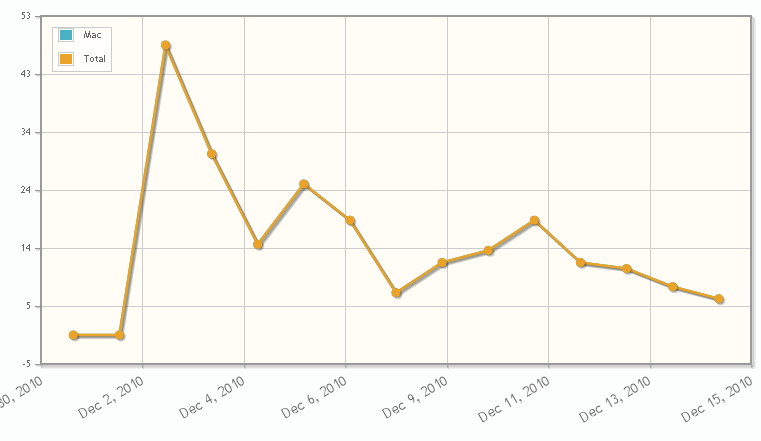 These are the changes since MonoMac 0.4
API Documentation!
New in CoreAnimation:

Layout managers
Constrained layout manager
CATextLayer can now set its font with the WeakFont property, or the SetFont () strong types.

CoreGraphics:

CGAffineTransform.Invert () method to obtain the inverse of an affine transformation

Foundation

NSObject.FromObject method automatically boxes .NET types into NSValue, NSString or NSNumber objects.
Convenience function to create NSArrays from object [] arrays and using the new NSObject boxing functionality.
New NSIndexSet convenience factory method and ToArray method
NSDictionary and NSMutableDictionary have convenience methods that take object [] arrays, and do the boxing automatically (using the new NSArray functionality described above)

AppKit:

DoubleClick event on views that have support for double click actions (instead of using the DoubleAction selector + Target)
NSTableView has a new Source property that can be used to blend both Delegate and the table view data source into one (NSTableViewSource which combines NSTableViewDataSource and NSTableViewDelegate)
New: NSPredicate family of classes
New: NSRuleEditor

AddressBook library:

We used to ship the source, but now it is included in the binary library.

CoreImage:
WebKit:

Many events that were previously only exposed as Objective-C style delegates are now proper C# events.

Engine:

Improved methods with return structures
Improved string [] marshalling
Now with INativeObject marshalling
We have also updated the samples and added a few more.