The conference so far has been fantastic, it is great to meet so many students and developers who are interested in becoming contributing citizens in the free software world. Yesterday Nat and myself did a couple of joint talks on the desktop. Today was Mono day #1 and the talk covered the basics: the rationale for Mono, what is available, and the roadmap.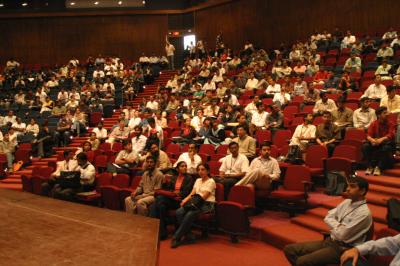 The Main Room
I spent the next five hours talking to various people who were interested in different facets of Mono and open source development. The Novell booth was packed, and the guys manning the booth were overloaded with questions about the desktop, the bounties (which we are promoting here for the first time in public) and Gnome Bangalore (which was just launched).
Naba Kumar of Anjuta fame has a boot all for himself to demo Anjuta and the locally built PDA is also being displayed on the show. Another important project at the show was the IndLinux effort: they have been working on translating Gnome to ten different Indian languages: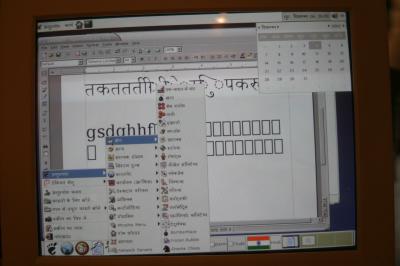 IndiLinux GNOME
Tomorrow we are doing another joint presentation, this time on rapid application development with Mono. We have a little surprise prepared for this one.