Coming to Beirut was a revelation, because it is completely different from what you imagine. I consider myself informed on the Middle East and on its political situation, but I was still a little bit scared of visiting Lebanon.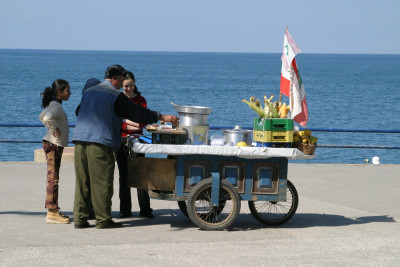 In the Corniche.
Edd and Yuyu both e-mailed me and told me that it was worth visiting and they eased my fears. Then I talked for a few weeks with Alaa and Hisham from the Lebanon Linux Users Group and they answered all of my pressing questions on Beirut.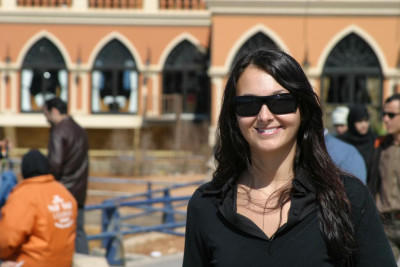 Laura in the Corniche
Turns out that Beirut today is a very safe city just like any other american or european city. What makes the trip interesting is the new language and arabic scripts.
I went to Beirut after reading Robert Fisk's Pity the Nation. The book is similar to reading The Thousand Nights and a Night, it is packed with stories that span roughly fifteen years in the life of Lebanon and the civil war.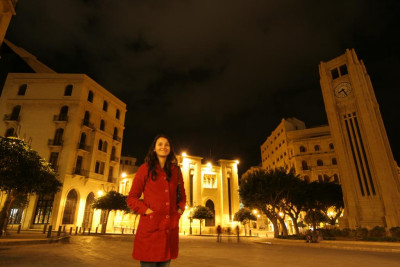 Downtown Beirut.
I got a haircut in Beirut. My barber asked me what I was doing there. `I am here because I read Pity the Nation' was my standard answer during my trip. He then said, ``I used to cut Mr. Robert Fisk's hair in the 80's during the civil war, he and the others staying at the Commodore Hotel''. He gave me his business card.
While in Beirut, we had the pleasure of meeting with Robert Fisk for lunch: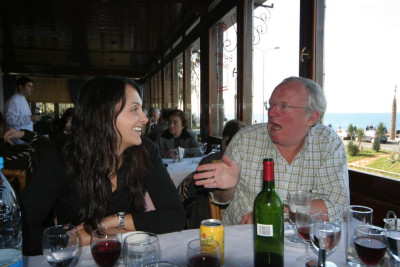 Laura and Robert at Lunch.
I had attended one of his lectures at MIT a few years ago, being a fan of his writing. But meeting him and Victoria for lunch was a pleasure, not only we had a great conversation, but the conversation had so much information that when I got back to our hotel I took pages of notes on what I had learned.
I told Robert the story about the guy who cut my hair, and showed him the business card. He said `Oh, yes, I remember him; I have now a new barber'.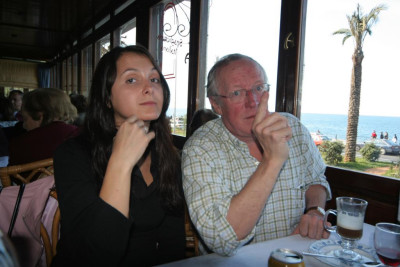 Posing for the camera.
Our friends in Lebanon told us repeatedly that visiting the Sabra and Chatila camps was dangerous. We asked Robert about it, and he said `Nonsense, I go there every week' [1], `you should go; do you have plans this afternoon?'.
Robert arranged for his driver to take us there, for Mohammed to show us the camp, and for drinks later that evening at his appartment. He only warned us that we would not be able to sleep after the visit. He was right.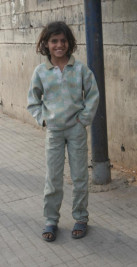 At the Entrance.
Victoria left us at the entrance of the Sabra and Chatila refugee camps in the hands of Mohammed. Mohammed and his sister are the sole survivors in his family from the 1982 Sabra and Chatila massacre.
At the entrance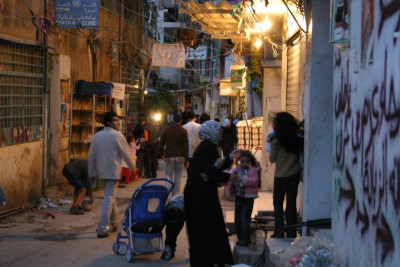 At the Sabra and Chatila Refugee Camps.
Palestinians refugees living in Lebanon can only work in the refugee camps. The camps are bounded, they can not expand their surface, so families grow their housing by adding a new floor every once in a while as a gift to newly-weds:
Vertical Growth in Sabra and Chatila.
In addition to the work restriction, new legislation in Lebanon forces palestinian families to sell any property they own to a Lebanese if the owner passes away, they can not keep the property.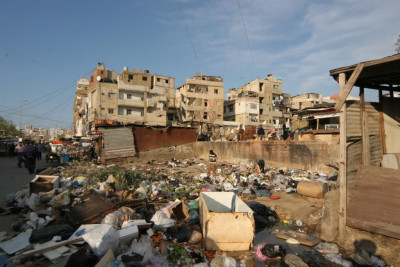 At the Entrance.
We accepted two tea invitations after much insistence, and we had dinner at Mohammed's place.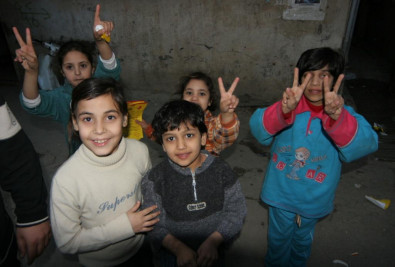 Palestinian Kids.
There is some limited internet connectivity in the camps, we saw one room where people were playing games and using the web, but no more than six computers.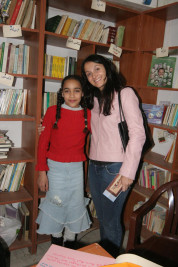 At the Palestinian Youth Center.
[1] Or something like that, dont remember the exact frequency.
Mono Updates
We are back in town from our trip to Lebanon.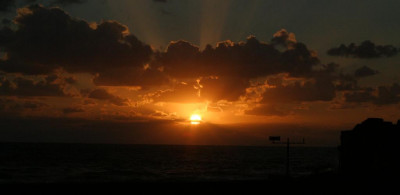 Sunset at Byblos.
Marek and Martin have completed two new features for C# 2.0: Nullable Types and Fixed Buffers. They will both be available as part of our upcoming Mono 1.1.5 release.
Dan has posted an update on Stetic. His update has a flash video that you can see.
Massi has posted a long explanation on how to improve Mono's SSAPRE implementation.