Some Blogosphere Comments
This just showed up on Blogsearch.Google.Com.
Apparently bombs are hitting downtown Beirut, near Hamra street (a commercial street in West Beirut, the "Newbury St" of Beirut). Various folks I met in my trip to Beirut live off that street, including Hisham, who worked on Mono.Cairo.
Alaa Salman, who I met in Beirut last year, is blogging here. The last time we had talked he was starting his own service-based company in Beirut.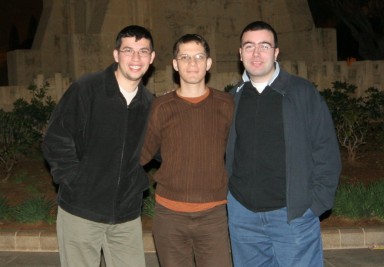 In Beirut, with Alaa Salman.
Using Blogsearch shows up a number of blogs from people evacuating and various sites contain pictures. The Lebanese Bloggers have assorted updates from various regions in Lebanon.
Update: Another find: Letter from Beirut from a 37-year old, blogging from Hamra street, very interesting background.
From the News
David Hirst, based in Beirut, is the author of one of my favorite books on Middle East conflicts: "The Gun and the Olive Branch". Has a good explanation of all the players in this Guardian article.
Robert Fisk from his home in Beirut reports on the early attacks on the Beirut infrastructure. And on the second day.
The Whiskey Bar as usual has excellent comments on the meaning and implications of the day to day events, in chronological order:
And some pictures are here.
I recently discovered Gideon Levy, a writer at Haaretz (some archives are here).
His articles have an amazing human touch. My favorite ones are: