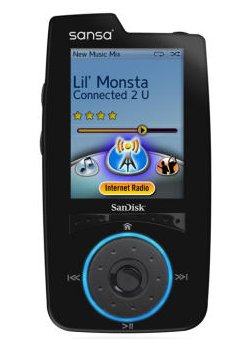 The Mono-based Sansa Connect MP3 player is now shipping.
The device comes with WiFi and 4 gigs of space for 250 dollars (50 dollars more expensive than the equivalent iPod, but comes with WiFi, internet radio and a Flickr browser). It has an expansion slot, so you can add more memory to it, so you can upgrade the space without upgrading the hardware and it integrates with Yahoo Music.
I will be ordering mine today.
Engadget has an updated review, it is pretty good, but they say regarding the music services:
We're disappointed that the Connect isn't a little more open than it is; we'd like to be able to stream whatever the heck we want for starters, but Yahoo! Music Unlimited and LAUNCHcast aren't bad starts. Now the trick is to keep up the WiFi momentum for these things -- Apple, Creative, iRiver, Archos, we're looking straight at you!
Someone on the blog comments a few months ago asked whether Zing would open up the platform for people to develop plugins for it, but it seems that at this point they have no plans to do so. I wish they did.
Online Music Services
A problem with the Sansa Connect is that Yahoo Music does not have a Linux client.
I am currently a Rhapsody user, and I use it mostly on the Windows machine that I use for testing .NET and reading the MSDN documentation. Although Rhapsody has a Linux client, you must be using Firefox to play your music (they use a firefox plugin and a web page with Javascript for their web player).
The situation is far from ideal, I would much rather have Banshee be my music front end.
So this weekend I tried to make a fake plugin host that would trick the Rhapsody plugin into loading, but am getting one misterious crash while calling NP_Initialize in the plugin (it loads Flash just fine) (source here, in case someone feels like debugging it).