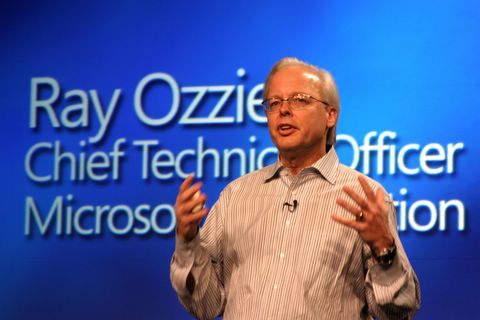 Microsoft has three big tasks ahead of itself: (a) make Azure successful; (b) make Windows Phone 7 successful; (c) keep the existing Windows and Office businesses printing money.
There is probably not a lot of political support at this point to embark on more large-scale innovations at Microsoft while there are probably hundreds of smaller innovations that are waiting under all of their product groups.
Ray Ozzie incubated a number of projects like Azure and Mesh at Microsoft that once they reached a level of usefulness were transferred to the product groups.
He is probably leaving his position as Chief Architect at Microsoft as he transfers the Azure assets to the product group and he is once again left as a general without an Army. Starting new project and recruiting teams from scratch for new products has probably taken a toll on him and he is ready to move on.
Missed Opportunities
Back in June I blogged about what I would do if I was in charge of Windows 8: among other things, I would have created a Windows AppStore.
This AppStore would have helped independent ISVs tremendously by opening the entire Windows user base as potential customer for Microsoft's products. It would have helped Microsoft make Windows even more relevant, and it would have done more to push native applications on Windows than anything else they have tried in the past.
The Windows PC market is a market that is many times larger than today's iPhone market. It would have been a gold mine, and there would have been a renewed gold rush to ship "Windows AppStore-ready" applications for Windows.
Hundreds of people at Microsoft must have had this idea, the question is why it never bubbled up to the top?
Short of a Microsoft-powered AppStore, Intel has announced that their Windows Appstore will now include .NET software.
On the one hand, Intel has now given up any attempts to make their AppStore be a cross-platform app-store, which I felt was a gracious thing for them to do, as it would have helped Linux.
Financially, having a strong Windows-based appstore was probably the right thing to do for Intel. There was really no point in Intel undermining his own efforts by forcing people to use cross platform tools in the first place.
If Microsoft was the one providing the AppStore, they would be reaching a much bigger market than what Intel hopes to reach.
This could have been a great Ray-Ozzie level hack to pull at Microsoft. In the meantime, Apple today announced an AppStore, and they are going to get a bucket of apps and a bucket of developers to push software on their platform.
Live Mesh
Live Mesh had a lot of promise, but sadly, the groups working on it refused to open up the specs on time, and the product became fairly uninteresting over time.
If you are going to open something for the world to see, you should be ready to let the world interoperate with it from the start. Otherwise you merely give your competitors the good ideas, and they throw away your bad ideas and avoid paying any of your strategy taxes.