Joseph blogs about our updated Mono VM. This new release is based on OpenSUSE 10.3 (instead of what we had been using which was based on 10.2).
It includes various new .NET and Mono applications that we had not shipped before (and that you can find the Mono:Community section of the Build Service).
Posted on 07 Feb 2008
---
I was doing some shopping today for a Lenovo ThinkPad T series, and noticed that they are finally offering them with SUSE Linux Enterprise Desktop 10 preinstalled.
(At least in the US).
Posted on 07 Feb 2008
---
Larry Lessig has a fantastic presentation, in the very best Larry Lessig style, of why he supports Obama over Hillary. Chris has a transcript of the presentation for those reading blogs from work.
While reading CNN summary:
But the two-term senator from New York surpassed the one-term senator from Illinois when voters were asked about experience, with 91 percent of voters saying she "has the right experience," versus just 5 percent who said the same thing about Obama.
Both John F Kennedy and Bill Clinton were younger than Obama is today when they became presidents. It seems odd that this fact is not mentioned more often. (Update: Raphael pointed out that I used the wrong word here; Sorry, not a native speaker and all that).
And Wonkette goes through the checklist: Hillary Pre-Election Day Cry For Points: Check:
With Super Tuesday coming tomorrow, and polls showing Hillary Clinton in a dead heat with Barack Obama in states like, let's see... Connecticut... it seemed like a good opportunity to CRY again. Not that this has anything to do with anything, but Hillary Clinton did cry in New Haven today while discussing children's health care, one of the various things that she cares about. We're ashamed at Hillary for this: If she had planned it around mid-afternoon, it might be a fresher topic for the evening news cycle.
Which is at odds with the speech I heard from her appearance in Massachusetts two nights ago when I jumped in a taxi. She was yelling repeatedly "am ready to lead" with a loud and strident voice. Which makes the perfect timing for the crying all too suspicious.
Larry Lessig's post underlines an important point about the way that Obama is conducting his campaign vs the way Hillary is. Hillary will have a debt with all the lobbyist, there will be favors to repay, concesions to make, special initiatives to pass through congress.
The video with Hillary's position on taking lobbyist's money is educational. Not only she is very happy taking their money, but she also twists facts when she says "They represent real Americans, they actually do". She should have added "The top 1% of Americans", you know, the Americans that actually count.
This is the complete context for the debate where the previous video was taken from. Edwards and Obama interventions are brilliant, "we do not have to start for the next election to start reforming, we need to start a grass roots movement to start reform today". Edwards and Obama went down this path: they did not take lobbyist money. Watch the full thing.
Obama as a president would not have those ties, he refuses to take money from the lobbyists.
Posted on 06 Feb 2008
---
Next week I will be in Paris for the Microsoft Tech Days talking about our work on Moonlight. JB Evain will be doing a tutorial on Moonlight on Monday as well. Sadly, due to all the work we have right now in Mono-land, I will only be in Paris for a very short time before I have to head back home. But hopefully Mono-ers and Opensourcers can have some dinner on Sunday night. Drop me an email.
I will also be speaking in depth at the Mix 08 about Moonlight. This will be a more detailed talk about Moonlight than the talk at Lang.NET which was more of a potpourri of Mono stories.
Posted on 04 Feb 2008
---
Only recently I found out about Mark Probst's MathMap plugin for the GIMP. I ran into it when he posted about a new feature in it called the MathMap Composer.
Check out this video demostration of MathMap's Composer.
I would have put a good screen capture of it, but Google Video seems to have regressed and no longer lets user skip over parts of the video.
Posted on 04 Feb 2008
---
Shawn at Cogmation has written us to notify us that Mono is being used as the scripting engine for their robotFoundry application.
From their testimonial page:
We needed a portable cross-platform, architecture compiler system that would allow us to develop code on one OS or architecture and deploy it on another with out recompiling. The problem with using gcc was that for every target OS or architecture we would need a separate cross compiler. Additionally maintaining and developing this toolset would be a large task.

Initially Python was selected as our cross platform language. Python was great but we were always concerned with its speed, especially in real-time applications.

We discovered Mono while we were evaluating 3D engines. Mono was successfully being used to develop video games and it was extremely fast. We performed a small test and compared the speed between Python and C# mono and were shocked at how fast mono was compared to python. In addition to the speed increase and portability, we now had the ability to allow our users to write scripts in any .Net language.

Switching to Mono has given us the ability to write very fast cross platform applications and has provided us with a multi-language scripting interface, and the integration of Mono within our application suite has proved to be a huge success.
(Emphasis added).
From the product description:
robotFoundry is a powerful graphical coding environment for robotics. Use drag and drop modules to add functionality to your code, quickly linking them to create program flow and robot controls. Generate code with a click, and transfer your code to your robot or robotSim with another click.

Code for a physical robot or simulated robot at the same time - switch between them at any time to generate code for the robot or robotSim to run identical code. Choose from pre-existing robotFoundry robot templates, or add components to create your own. Many modules are available, ranging from simple controllers such as line trackers and wall followers to basic building blocks like variables, mathematics and logical operators. Choose your own level of programming, and allow robotFoundry to take the coding out of your coding.
Additionally their robotSim lets you simulate your robot software in a simulated virtual world. RobotSim is built using Unity3D which is also scripted with Mono:
RobotSim: Simulated Packbot with ARM
You can use robotFoundry and robotSim to write code for your Roomba or your iRobot Create without burning the batteries:
RobotSiming a Roomba
Posted on 03 Feb 2008
---
Dave Winer has a couple of great posts on the campaign:
Here he points out:
Most of what Chris Matthews says is mindless trash, but today he pulled out a great analogy immediately after Ted Kennedy's stirring endorsement of Obama.

He compared Hillary Clinton to the character Salieri in the movie Amadeus. Until Mozart came along he was the leading composer in Vienna, but he was just a workman, a technician. Mozart had inspiration, feeling, the spirit. Salieri, even though he lived a long life and Mozart died young, is a footnote to Mozart's lasting greatness.

Matthews nailed it.
This is a great nugget that encapsulates perfectly how I feel about Hillary.
Dave also wrote: Bill Clinton as Trent Lott 2.0, some parts that I liked:
It was an interesting election until the Clintons started calling Obama the nice young African-American candidate.

[...]

The problem for Clinton is actually much worse, we now saw how she'd govern. Let's say a young African-American Senator from Illiinois got in the way. Would she argue the issues with him in a respectful way? Why bother when you can smear him into silence.

[...]

What a fantastic way to recover from Bush, who so completely represented the greed and arrogance and uglyness of America, to reinvent ourselves in the image of our best, in the image of hope.
(Emphasis added).
Posted on 01 Feb 2008
---
My SecondLife dude walks around the Mono Simulator in SecondLife, am running this with the Linux client: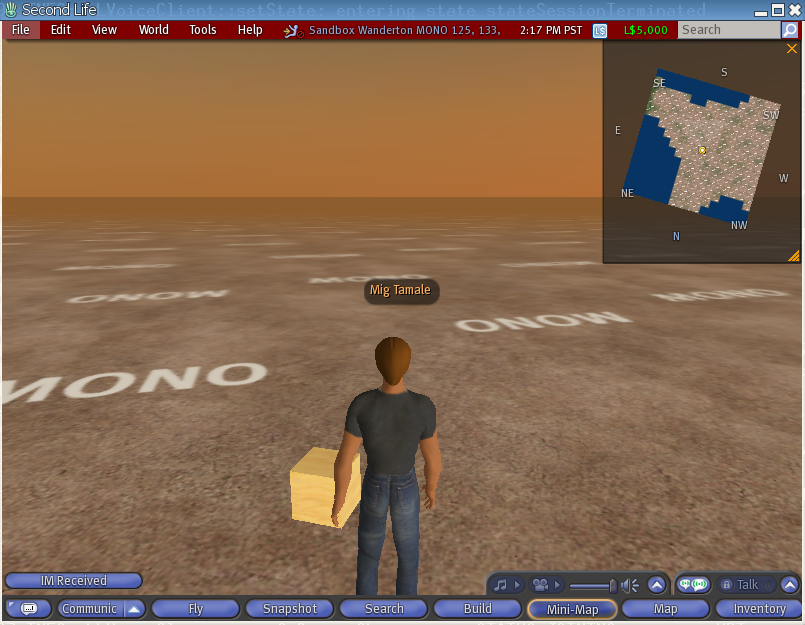 Mig Tamale Explores the Space.
The work that we are doing on Mono's runtime to support Silverlight (the sandbox system and the hardening of the runtime) is going to enable the use of other programming languages to script components on Second Life.
Go SecondLife! Go!
Posted on 31 Jan 2008
---
Today Jim announced the beta launch of their Mono integration into SecondLife.
We're very pleased to announce the beta testing of Mono in Second Life. Mono is a technology which will increase the speed of scripts running in Second Life. The goal is that everyone will experience reduced lag and improved stability and that it will be possible to script complex behaviours that were not previously feasible in Second Life.

With a mono viewer on a Mono region, normal LSL scripts can optionally be compiled and run on Mono. If you are a scripter we would love you to download the Mono viewer, connect to the beta grid, teleport to a Mono-enabled region and test your scripts on both the Mono and LSL virtual machines side by side
Currently the focus of this beta is to focus on identifying any problems with the Mono integration, so the language use is currently still limited to LSL. Linden has plans to allow any .NET language that will run on Mono to be used to write scripts for SecondLife.
For more information of Mono on SecondLife see the Mono page and if you want to participate in the beta, see SecondLife Mono Beta FAQ
Congratulations to the Jim and the Lindens for their beta launch and for seeing this project through.
I strongly recommend Cory's and Jim's video from the Lang.NET 2006 conference which explains some of the formidable things they did to bring Mono into their simulators.
I can not stress enough how interesting this talk was. It is a great introduction to SecondLife and it is a great talk on software engineering and the wonderful hacks that they came up with.
Brady, this is your chance to start hacking on it!
Posted on 29 Jan 2008
---
Next week, am attending Lang.NET 2008 in the Microsoft Campus, two years ago this conference was a blast.
Am looking forward to what looks like a fantastic program. Marek Safar, one of Mono's C# compiler developers, will be there as well.
Since am not really a language designer myself, my talk will focus on discussing a few interesting solutions to a number of problems that we have faced while developing Moonlight and Mono and show a few creative applications that have been built with Mono.
Posted on 24 Jan 2008
---
« Newer entries
|
Older entries »