Christian Lassmann from Weltenbauer Software Entwicklung GmbH, who I had the pleasure of meeting at the Unite Conference in Denmark in October, just wrote to tell me that "My Animal Center", a game built with Unity3D's Wii Edition and Mono hit the shelves on December 20th in Germany.
The game uses C# extensively. It was a joy to hear Christian explain how the various effects were created, I wish he blogged about it.
Cute trailer (text is in German):
The game is coming to a Wii near you in the US soon.
Posted on 06 Jan 2009
---
Blurst's Raptor Copter game built using Unity3D and Mono just hit the Apple AppStore.
From the announcement:
Raptor Copter has become our first Unity-made iPhone game to hit the App Store! We're making it available for a limited-time price of $0.99. The game is a loose follow-up to Off-Road Velociraptor Safari. Instead of a jeep, you have a Chinook helicopter, but the basic game loop is the same: Capture raptors, drop them into factories, and teleport their sweet meats to the future.

You can get it for your iPod Touch or iPhone from this Raptor Copter iTunes Link.
Cute video:
Unity3D is using Mono's full static compilation to allow the game to run JIT-less and interpreter-less on the iPhone.
Posted on 06 Jan 2009
---
Koushik Dutta got Mono running on the Android-based G1 phone.
He posted a video of the phone compiling "Hello World" (he points out that it is slower due to Mono running from the SD card):
He also posted some performance and memory usage comparisons between Dalvik, Mono and Java/ARM. Short story: Mono does great!
There are some caveats on running Mono on the G1, see the comments on this post. Still, these are encouraging news.
Posted on 05 Jan 2009
---
Brad Taylor has announced the first release of the Mono Accessibility stack:
UI Automation provides programmatic access to most user interface (UI) elements on the desktop, enabling assistive technology products such as screen readers to provide information about the UI to end users and to manipulate the UI by means other than standard input. UI Automation also allows automated test scripts to interact with the UI.
Mono's Accessibility Framework is an implementation of UI Automation. The same API that is available for WPF and the framework is used by Silverlight and Windows.Forms.
Client Code: The initial launch of Mono Accessibility adds accessibility support to applications built with Windows.Forms to be accessible.
Backend Code: The code has a bridge that talks to the existing ATK framework on Linux.
In the future the Mono Accessibility framework will be used in our own Moonlight 2.0.
Check the release notes, install from source or use OpenSUSE's 1-click install.
Posted on 05 Jan 2009
---
Today I upgraded my F-Spot, I had not upgraded it since before the PDC.
It is now has a Picassa-like toolbar on the left:
And third-party extensions are starting to come out: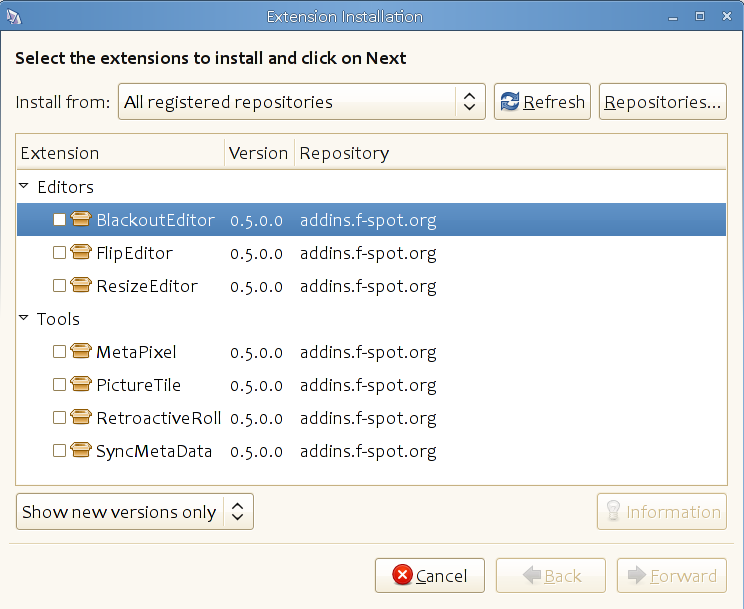 Posted on 19 Dec 2008
---
Pablo has sent me these two screencasts of their Plastic SCM product running on Linux and MacOS using Mono 2.0's Windows.Forms support: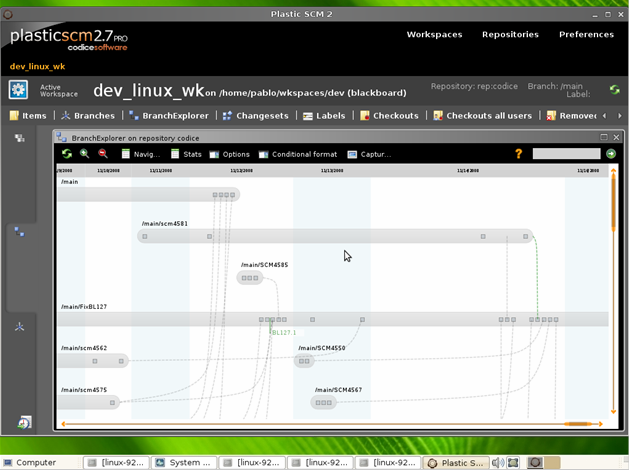 Plastic on Linux, the GUI toolkit is Windows.Forms with custom widgets and a nice color scheme.
Plastic has a nice graphical diff tool: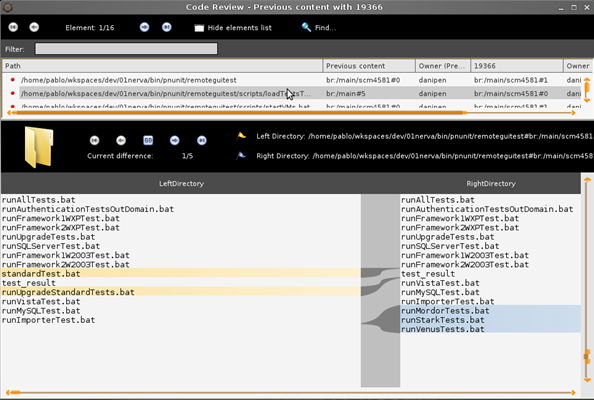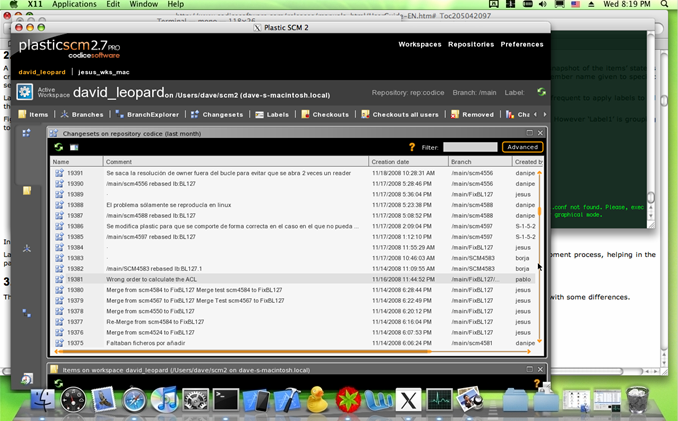 A preview of Plastic on MacOS X.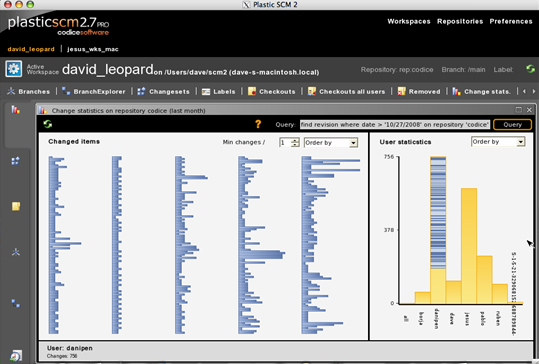 Cute graphs
More screenshots here.
Plastic is one of the finalists for this year's Jolt Awards.
Posted on 18 Dec 2008
---
For a while I wanted to be able to get programmatic access to my email store in Evolution, just like it is possible to have programmatic access to the contacts and calendar through the Evolution Data Server.
The advantages of using IMAP as the protocol to talk to Evolution are simple: I can use any existing IMAP client library, or any other IMAP client to connect to my Evolution store. The protocol is well known, documented and the large ecosystem of IMAP clients makes it a natural feature.
There is also an application that I have in mind for it. I keep all of my email in Evolution, I download all of my email into my local hard disk so I can have all my information with me even when I am disconnected from the net. This means I can always check patches, review comments, discussions even when I am disconnected or with poor network connectivity.
But when I go on vacation, I do not want to bring my laptop or Evolution with me. Instead I end up using internet cafes to read my gmail and all of the other email addresses end up in Novell's server. Novell provides a convenient Web UI that I can use to read my email.
But the problem is that I end up reading emails twice: once in the road with the web UIs, and another time when I get back home and import all my email into Evolution.
By having Evolution expose an IMAP interface, I could use any IMAP client on the road, or ssh into my box and use mutt to read from the same email store that Evolution is keeping track of.
Posted on 17 Dec 2008
---
Joseph, Chris and myself are visiting Microsoft this week to learn more about Silverlight 3.0
If you are in town and have some time to meet to discuss open source, Mono, .NET, the CLI, the DLR or and whatever else you think we might have a fun conversation about, please drop me an email.
Posted on 09 Dec 2008
---
Argiris Kirtzidi (one of the developers behind Managed OGRE) modified Moonlight to run inside the Ogre3D engine. You can render Moonlight applications or XAML files inside Ogre3D.

The Moonlight Calculator Example.

Your standard XAML tiger.
We are merging his patches to make it simpler for Moonlight to be compiled by Windows users.
Update:For more details about how this was done, and how he modified Cairo to be hardware accelerated check Argiris's post.
Posted on 08 Dec 2008
---
We have released the first beta of Moonlight 1.0.
This release supports the Microsoft Media Pack for playing back video and audio files. These are the same video and audio decoders that Microsoft uses in Silverlight 2.0.
Check our Moonlight roadmap for details on upcoming versions.
You can try some of the sites tests that we used to test Moonlight.
Here are some Silverlight 1.0 materials:
Silverlight 1.0 Unleashed. This is my favorite Silverlight 1.0 book, one of the books that we used to get some of the Moonlight team members up to speed.
You can also read the Silvelright's XAML vocabulary description and its XAML Foundation Specification.
Posted on 02 Dec 2008
---
« Newer entries
|
Older entries »